Southern Africa Stakeholders Meet with AgMIP Researchers
By: Jenna Famular
Two recent stakeholder meetings in Pretoria, and Malawi were held by AgMIP Southern Africa teams to engage local stakeholders and inform them about research being conducted in Southern Africa. Local stakeholders, such as decision- and policy-makers, are the end-users of AgMIP research outputs as they seek to form effective agricultural policies based on scientific knowledge of possible future impacts of climate change on local economies.
Stakeholders can also play a vital role in directing the goals and strategies of AgMIP's regional research teams to better provide useful information. Stakeholders understand local policy and monetary feasibility of possible agricultural adaptations to climate change, and can thus increase the realism of research scenarios and advise research teams as to relevant avenues of research to meet regional needs. Input from stakeholders allows AgMIP to directly test policies and adaptation strategies under consideration, and interaction between the stakeholder and research communities helps identify new options for further consideration.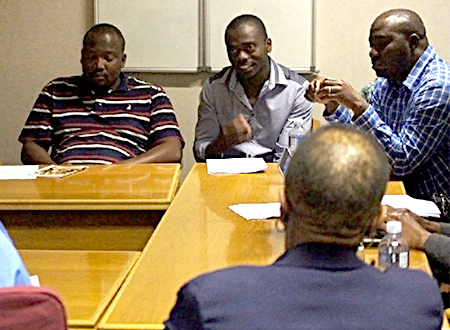 "The Agricultural Model Intercomparison and Improvement Project (AgMIP) multi-modeling approach is novel as it analyses impacts on the future of entire farming systems, including crops and livestock as well as possible socio-economic scenarios," explained Dr. Aloysius, Director of Environmental Affairs in the Ministry of Environment, Energy and Mining, Malawi. "-The project will benefit planned government activities, especially the National Adaptation Plan (NAP) to climate change."
In Pretoria, South Africa, the AgMIP Southern Africa Regional Research Team and the Agricultural Research Council (ARC) met with approximately 60 researchers and stakeholders on September 9th, 2014, to share scientific information and identify key challenges for farmers who are attempting to adapt to climate change. In addition, stakeholders provided feedback on the analysis of climate change impacts, as well as alternatives, opportunities and solutions for adapting to climate change. Researchers and stakeholders met with the goal of partnering to create field-level adaptations and identify preferred solutions.