Nature Article on Climate-Proof Farms Features AgMIP and MACSUR
By: Shari Lifson
A news feature recently published in Nature "Quest for climate-proof farms" by Quirin Schiermeier highlighted AgMIP and MACSUR researchers' collaborations with agricultural decision makers and farmers for co-development of assessments of climate change adaptations.
Agriculture, the article states, is facing the twin pressures of impending population growth and a changing climate. To meet growing demand and keep yields stable farmers will be required to adapt to new climate realities. Interdisciplinary efforts like AgMIP, with the international community and with teams in Africa and Asia, and MACSUR, in Europe, are collaborating closely with agricultural policy makers, extension agents and farmers to model the impacts of planned adaptations and understand which will have the most long-term benefits.
These interactions between scientists and stakeholders can increase the relevance and uptake of the research to improve the long-term resilience of farming systems. Digital communication tools such as apps can also be beneficial and can open new avenues of communication to reach farmers, for example with information on changing weather patterns.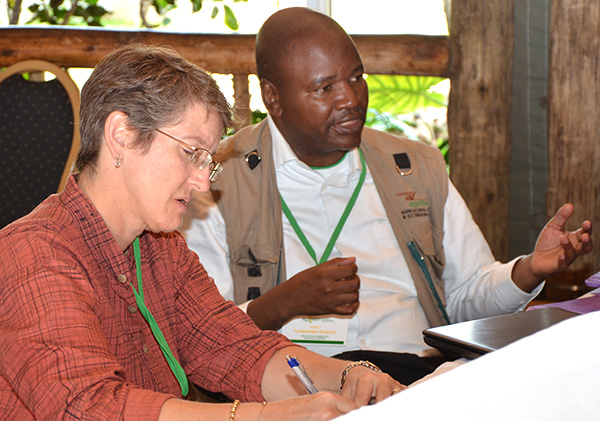 Photo: Dumisani Mbikwa Nyoni meeting with Amy Sullivan of the AgMIP Stakeholder Unit and others at the AgMIP Regional Research Teams Workshop in Victoria Falls, Zimbabwe
Stakeholders working with the researchers understand the importance of reducing farmers' vulnerability to climate shocks. Dumisani Mbikwa Nyoni, an extension agent from Zimbabwe has been collaborating with the AgMIP South-Eastern African research team, was quoted in the article,
"Climate change is causing drought in our country," he says. "So we need to identify crop varieties that can stand dryness and inadequate soil moisture, and we need to know what other options exist that will sustain our farmers. I hope science will help us do all that."
With interdisciplinary teams in Africa and Asia AgMIP has co-developed a methodology of Regional Integrated Assessments to model possible future conditions in agricultural systems. The methodology assesses the value of proposed adaptations in the future and at scale, considering also past and future climate conditions as well as trends in technology and management. In addition – and in partnership with MACSUR – AgMIP is facilitating collaborative advancement of agricultural systems models, which includes over 20 initiatives including climate, crops, pests & diseases, livestock, water and others to establish coordinated global and regional assessments of food security.