Cynthia Rosenzweig On the Road for AgMIP
By Molly B Schneider
Over the last year, AgMIP Principal Investigator, Cynthia Rosenzweig has been traversing the country to spread the word about AgMIP's research projects. Last month, Rosenzweig traveled to Harvard University, Stanford University and the University of California, Berkeley to meet with students and fellow agricultural and climate change scientists.
At Harvard and Stanford, Rosenzweig held seminars with key departments in order to promote the work of AgMIP. Primarily, she presented several of AgMIP's scientific endeavors including the recent work on a global gridded crop model initiative, wheat pilot study and regional integrated assessments of Sub-Saharan Africa and South East Asia. Secondly, she shared the goals and activities of AgMIP in order to encourage collaborations in the key areas of the effects of CO2 and climate change on food quality, research on agricultural stakeholders, and the exploration of synergies between statistical and dynamic modeling approaches.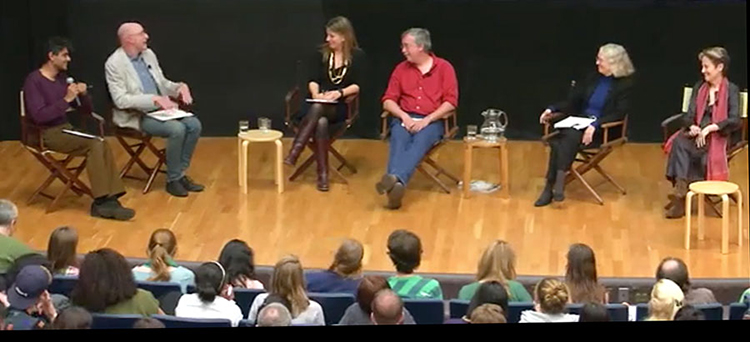 Photo: Cynthia Rosenzweig (second from right) participates in agricultural panel for Michael Pollan and Raj Patel's class on Edible Education
At UC Berkeley, Rosenzweig was a guest at food journalists Michael Pollan and Raj Patel's class on Edible Education. She spoke on the topic of how climate change is affecting agriculture and conversely, how agriculture is affecting climate change as well as possible mitigation and adaptation solutions. Rosenzweig was on the panel with Alice Waters, owner of Chez Panisse and founder of the Edible Schoolyard Program, Anna Lappe, author of Diet for a Hot Planet and Courtney White, sustainable livestock activist.
At all of the visits, Rosenzweig was able to engage with both existing and new AgMIP collaborators. Interacting with students from a variety of different academic disciplines both stimulated interest and reinforced the need to have high-quality models and methods for agricultural intercomparison.
Rosenzweig said, "It was really great to get out on the road with AgMIP and share with colleagues around the country the science of AgMIP and its development as a new global program."