AgMIP Award and more at ASA
By: James Oliver
At the annual ASA Fall meeting November 13th – 19th in Minneapolis, Minnesota AgMIP Principal Investigators were recognized for their work in the field of agricultural science. Drs. Cynthia Rosenzweig, Jim Jones, John Antle and Jerry Hatfield were honored with the 2015 America Society of Agronomy (ASA) Presidential Award.
The award is given to those who have influenced agronomic sciences or crop production practices so greatly that the impact of their efforts will be enduring on future science.
"The AgMIP team, under their joint vision and leadership, has dramatically increased the coordination, transparency, and scientific rigor of agronomic modeling to address the pressing challenges of global change." stated ASA President Jean Steiner as she presented the award.
Over 7,000 participants took part in the meeting that convened scientists from all over the globe. The Presidential Award wasn't the only moment of note for AgMIP. On Sunday the 15th, Cynthia Rosenzwieg, Jim Jones and John Antle led an AgMIP Round table involving nearly 40 participants.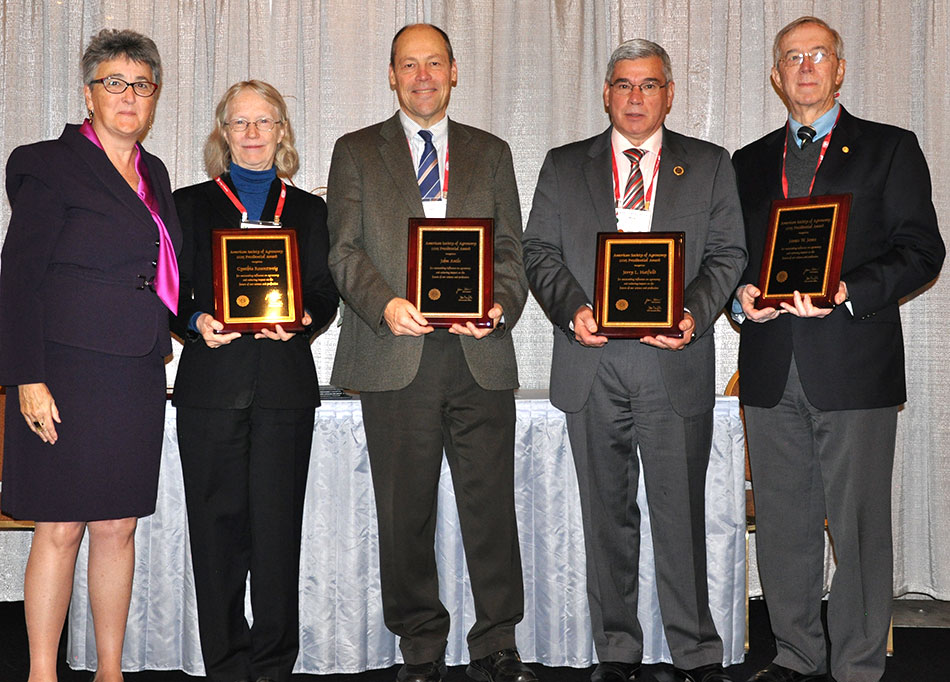 Photo from left to right: Jean Steiner, Cynthia Rosenzweig, John Antle, Jerry Hatfield, and Jim Jones
The following day, Monday the 16th, began with a breakfast at which Cynthia Rosenzweig, Jim Jones, John Antle and Jerry Hatfield received their awards. Later that day, AgMIP held a four-hour symposium where numerous different and relevant topics within agricultural science were presented.
The roundtable was an opportunity for the scientific community to gather updates and ask questions about AgMIP's recent initiatives and activities. Participants inquired about emerging work areas and ways for the extended AgMIP community to stay ahead of and informed on its advancements. One page summaries that detail AgMIP's current and future projects and plans were available and can be accessed here.
The Monday symposium began at one in the afternoon, and the proceeding four-hour period was broken up into ten different portions. Each section ranged from ten to twenty-five minutes, and covered topics from the improvement of modeling to the relationship between agriculture and climate change. A diverse group of AgMIP scientists and partners contributed to these sessions highlighting their efforts to better assess the status of the world's food security now and in the future. You can access audio recordings and presentations from the symposium at the ASA meeting site.
Cynthia Rosenzweig presented an overview of AgMIP data harmonization and stewardship activities. AgMIP has provided use cases that show greater participation in data discovery and sharing, and global and regional assessments that use data to reduce model uncertainty and address stakeholder needs.
Ken Boote, Co-leader of the AgMIP crop modeling team, discussed the crop model intercomparison and improvement teams of AgMIP. These crop model ensemble studies show the value of partnerships in the AgMIP approach and results are often a combined effort by 40 or 50 contributors.
The evening concluded with a reception for the session participants and attendees enabling discussion of the days topics and future collaborations.